So… what is Amigos?
Amigos is a fundraising campaign that allows you to acquire four English-Spanish books at a discount price and raise money for your school bilingual program!
And all from Wednesday Night Press, the Portland bilingual press!
Amigos es una campaña de recaudación de fondos que le permite adquirir cuatro libros en inglés-español a un precio de descuento  y ¡juntar dinero para el programa bilingüe de su escuela! 
Todo gracias a Wednesday Night Press, la prensa bilingüe de Portland.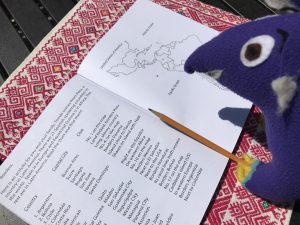 Mmm… long skinny South American country…